Precision sheet metal bending
Precision sheet metal bending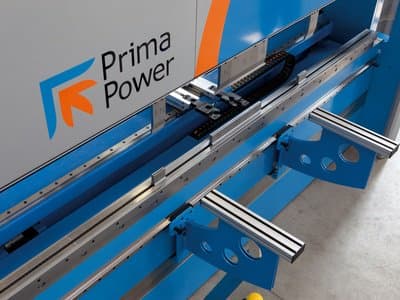 Prima Power eP Series is a fast, accurate, efficient servo-electric bending solution.
Servo-electric bending technology from Prima Power
The new eP series leaf-bending press from Prima Power is based on extensive experience in the area of leaf-bending presses and servo-electric machines for sheet metal processing.
The innovative machine concept combines performance, accuracy, flexibility and reliability with great respect for environmental aspects – we call this concept Green Means®.
The eP leaf-bending press is available in four models, the eP-0520, eP-1030, eP-1336 and eP-2040, with a different press tonnage and bend length to meet any production requirements.
Features
Servo-electric bending system: stability, efficiency and productivity, greater versatility, outstanding accuracy, low power consumption, lower maintenance costs and absence of need to buy and dispose of oil.
• the belt drive sheave system driven by Prima Electro servo drives distributes the bending force along the entire bend length;
• 5-year warranty for a mechanical drive system in conjunction with an annual maintenance agreement;
• tough and stable O-frame, providing:
- tool alignment even with stress deformation;
- excellent accuracy and repeatability of the position of the plunger with linear encoders, oriented to the reservoir, measuring the relative position of the upper and lower rays;
- flexibility: there are no restrictions on a throat for long details (it is typical for the C-shaped design);
• measurement along the entire bend;
• Prima Electro Open Control: MSWindows based, 2 processors, user-friendly 17-inch touchscreen, 2D graphic online programming and 3D visualization for stand-alone Auto-Pol programs;
• easy-to-use and efficient offline programming AutoPOL;
• laser protective equipment block by Lazer Safe, the most advanced solution in terms of performance and protection level.
• angle measurement option: high-speed digital image processing technology for measuring the angle of the formed workpiece on each cycle with automatic correction of the bending program;
• AQ Bending sequence: the second operator for support larger parts is not needed;
• Wila tools system (recommended): fast, accurate and flexible.