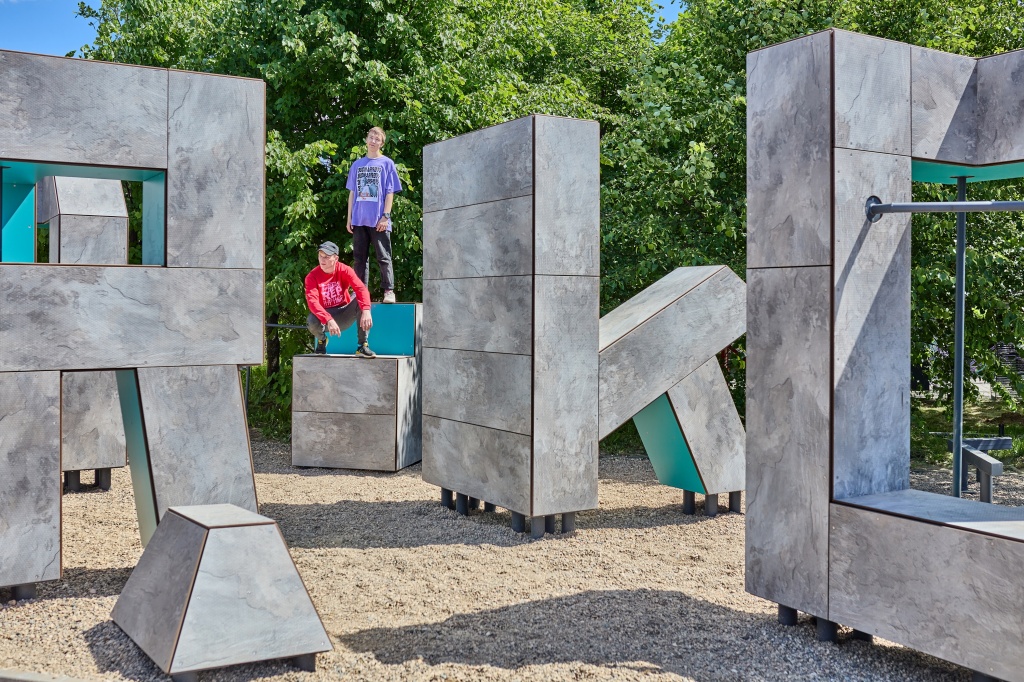 Punto Parkour
is a sports equipment designed for teaching parkour in public places. Elements of our playgrounds allow people of all ages and skill levels to start playing parkour in a safe environment.

All sites are designed according to the international standard DIN16899-2018, the coating of parkour elements is anti-slip. The site on which the Punto Parkour is installed (not included) must have a special rubber coating to ensure the safety of the tracers.

Benefits of Punto Parkour
Versatility. Three configurations of sites make it possible to install them even in limited areas. The equipment provides all the conditions for effective training of tracers of all levels: many angles, several types of surfaces for jumping, landing and balance.
Reliable materials. Punto Parkour uses anti-slip HPL plastic that meets all safety standards for parkour sites.
Design and customization. Several options for visual solutions allow Punto Parkour to organically fit into any project: a residential complex, park, embankment, grounds near schools or shopping centers. The letters are made in gray, which is a feature of the material; inserts can be of any color. It is possible to make individual illumination for the letters. As for the elements themselves, the entire alphabet in Cyrillic and Latin is available to order.


Ease of logistics and assembly
Punto Parkour
is a constructor whose elements are packed compactly in the shortest possible time and sent to any place in Russia or the world. The materials used significantly reduce the weight of the structure, which is also important during transportation.
The situation is the same with the installation - first, the frame is assembled from powder-coated galvanized steel, and then it is retrofitted with anti-slip HPL plastic elements. The assembly of the entire structure from scratch takes place in the shortest possible time and does not require special skills.

To get a detailed presentation of the product and get acquainted with the prices - contact the managers from the sales department.