It is impossible to imagine a relaxing and full-fledged outdoor recreation without comfortable and comfortable furniture, a huge selection of which is offered by the Russian company Punto Design. It is part of a landscape gardening composition and should fit into the architecture of the city.
For the arrangement of parks, summer grounds and cozy courtyards of residential complexes, sun loungers and benches are used. They must meet some requirements:
be comfortable and reliable;
be resistant to atmospheric precipitation and external influences;
differ in ergonomics and functionality;
correspond to the uniform style of the urban look.



Purpose of sun loungers
Quality outdoor furniture, represented by sun loungers and benches, was created for the comfort of city dwellers. It gives the architecture of the city completeness and performs several important functions:
benches and benches are an element of the recreation area. You can sit on them, chat with friends and acquaintances, or just enjoy the fresh air;
sun loungers are an important element of the park area and provide all the necessary conditions for relaxation. You can sit or lie on them.
Park chaise lounges and sun loungers from the Punto Design company are made of durable thermal wood that does not rot, does not undergo moisture and does not need additional processing. These products are designed for outdoor and outdoor recreation on hot days, when you can soak up the warm rays of the sun and enjoy reading a new bestseller or time-tested classics.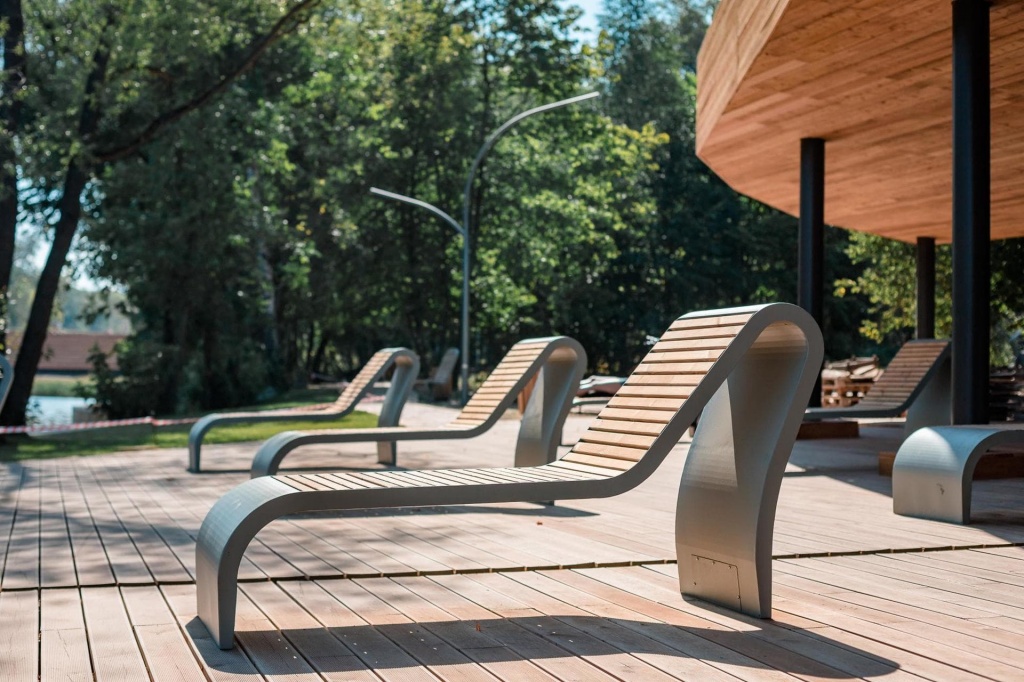 A sturdy outdoor bench, which can be ordered on our website, has an attractive appearance and is made of wood and steel. The combination of these materials allows you to experiment with decorative elements and shapes, creating products that are most suitable for arranging the surrounding space. A wooden park bench is suitable for various options for comfortable rest, whether it be friendly gatherings in the park, walks along the embankment, rest in the country or in the courtyard of your own house.
Park loungers are an original solution for the relaxation of visitors who decide to take a walk in the park and enjoy the stunning scenery. They are also installed in public gardens and summer cottages as an important element of landscape design. Punto Design sun loungers are a prime example of reliable, original and durable products.
Russian-made sun loungers combine practicality, aesthetics and stability. All metal models are powder coated, so they are not subject to moisture and corrosion. They can be installed anywhere in the open air.